This is the story of US Marine Cpl. Ali J. Mohammed and his journey from Iraqi refugee to US Marine.  Mohammed, 23, is serving with 3rd Battalion, 7th Marines, an infantry battalion supporting the anti-ISIS fight better known as Operation Inherent Resolve. Though his job is in supply, his main role is serving as an Arabic translator.
His path from Iraq to the United States began in 2009, when his family received "numerous threats" from militants due to his sister's work as a translator for US troops.   Then 16-years-old, he and his family fled Iraq for the US, where Mohammed learned English, worked to support his family, and went to high school.
He graduated in 2014, and later that year decided to enlist in the Marine Corps.  "The reason I joined the Marine Corps is because I knew Marines who were here when I lived here, and I liked them," said Mohammed." I had a feeling I was going to come back here as a Marine."
After completing recruit training, Mohammed went on to Marine Combat Training and then to his formal military occupational specialty school, where he would learn how to ship, receive and inventory supplies for the US Marine Corps. Soon after completing all his training he learned he could put to use a skill he has had since a young age.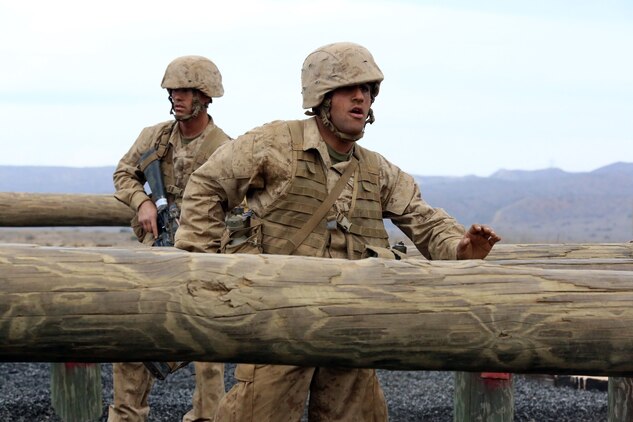 When he first got to his unit at Marine Corps Air Ground Combat Center Twentynine Palms, California, Mohammed knew he wanted to serve in Iraq and volunteered to deploy outside of his occupational status.  Mohammed speaks a specific dialect of Arabic that is unique to Iraq. Many of the interpreters at Al Taqaddum speak different dialects of Arabic.
"At first nobody knew I spoke Arabic, but I knew translators would end up in Iraq," said Mohammed.  Upon telling an officer in his battalion about his language skills, it didn't take long before the unit's leadership decided to deploy him as an interpreter—where he could really help make an impact to the mission.
He explained that his job as an interpreter can be a lot of work. There are several Iraqi units stationed at Al Taqaddum, and Mohammed helps the Marines communicate with the local forces. He is also regularly tasked to sit in on important meetings where he translates for his commander.
This is his second deployment to Iraq. On his first, he said, he served at an Army hospital where he helped doctors trying to assess patients who did not speak English.
"
To be able to read, write and speak Arabic is normal to him, and for him to be a US Marine and understand how we operate is just phenomenal," Maj. Ryan Hunt, his team leader, said in a statement. "He's just a pleasure to work with and is a huge asset to this team. He's had such a positive attitude and is very mature; sometimes I forget he's only 23 years old."
Cpl. Mohammed said that he wants to continue in the US Marine Corps as a translator within the service's elite special ops unit, MarSoc. "America is my home, but Iraq is my homeland," Mohammed said in a statement. "My biggest motivation right now is to help drive these extremist groups out of my home land, and being able to do that as a United States Marine is the most rewarding thing I could have asked for."